Beach Themed Invitations
Having a beach celebration or party? No matter what it is, a wedding, a Luau, a Bridal Shower, etc. We have many invitations with whimsical and modern designs to choose from. See below.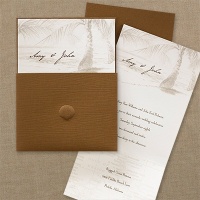 Sea Shell Destination
This ecru invitation card features a classic sepia tone, beach design. For the finishing touch tuck it away into a tan pocket featuring an embossed sea shell design on the front.
$259.90 per 100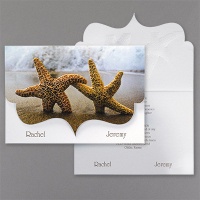 Beach Loving Invitation Wedding
Two starfish hand in hand are shown on this beach designed, shimmery invitation.
$247.90 per 100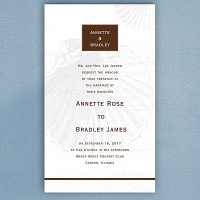 Summer Solstice
The ambience reflected by chocolate-colored seashells mean one thing...beach! Your invitation wording, printed in chocolate, adds new meaning to a favorite summertime place.
$240.90 per 100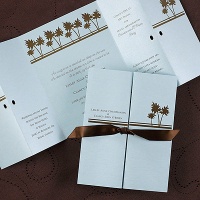 Palms of Aqua
Create a unique look for your romantic getaway with this aqua z-fold invitation featuring a palm tree design printed in the same ink color as your wording. Tie it all together with the ribbon color of your choice.
$207.90 per 100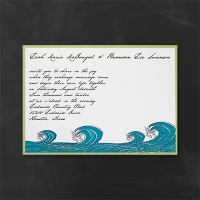 Waves of Love
This unique invitation card features rolling turquoise waves crashing against the lime green border.
$182.90 per 100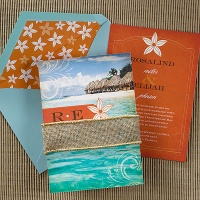 Ocean Breeze Invitation
A picturesque ocean scene is shown on this two-sided card with a burlap band around it.
$178.90 per 100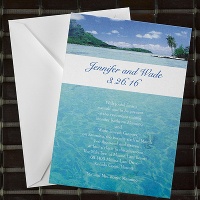 Tropical Ocean
This serene full-color invitation features a romantic ocean scene perfect for a destination or beach wedding!
$170.90 per 100
Home
Copyright © 2016 BeachThemedInvitations.com - All Rights Reserved - Date: 12/3/2016